Americas Cardroom: A Premier Poker Room With a $2,000 First Deposit Bonus
Americas Cardroom, now known as just ACR, is the flagship poker site of the Winning Poker Network, which evolved out of the old Yatahay Network, an entity going back all the way to 2001. During this entire time, it has always paid out reliably and deal cards fairly. Poker games run from the tiniest of the micros all the way through to high stakes, so it's a great poker home for any type of player.
When you decide to open an account at ACR Poker, don't forget to redeem the ACR referral code WELCOME100. This will entitle you to claim the first deposit bonus of 100% up to $2,000 as well as $50 in free Jackpot Poker entries. The bonus is good for every type of poker spread at the site: Texas Hold'em and Omaha cash games, SNGs, multi-table tournaments, et cetera.
Click here and register at ACR Poker today and get your $2,000 bonus!
How to input the ACR Poker Referral Code
Entering the Americas Cardroom referral code WELCOME100 is a snap, but there are a few steps you'll have to complete first. Follow the instructions below to trigger your 100% up to $2,000 bonus:
Navigate through our link to the Americas Cardroom site.
Click "Download" towards the top-right of the webpage.
Run the installation file.
Open up the poker client software.
Click the green "Create New Account" button.
Fill out the registration form, starting with your poker Nickname.
In the "Referral Code" field, type in WELCOME100.
Proceed through the next screens of the signup process.
When you're done, submit the form, and your account will be created.
Does ACR Poker Accept Only U.S.A. Residents?
Despite its name, Americas Cardroom is open to the overwhelming majority of jurisdictions worldwide. There's a very short list of countries that are excluded from enjoying the poker action at ACR. They are:
France
French Guyana
Guadeloupe
Martinique
Mayotte
Réunion
Spain
Sweden
Turkey
Additionally, there are a few states within the U.S. from which the cardroom does not accept action:
Delaware
Kentucky
Louisiana
Maryland
Nevada
New Jersey
Washington State
Does ACR Poker Support My Computing Platform?
The developers at Americas Cardroom have prioritized the Windows version of their poker software because it's the operating system used most often by people worldwide. Anyone whose machine meets certain basic requirements can join up, log in, fund their account and begin playing. Ensure that your computer conforms to these recommended system specifications before initiating the Americas Cardroom download:
Windows 7 or later
Minimum of 800 x 600 screen resolution (1024 x 768 preferred) with at least 16-bit color
30 MB+ hard drive space
512 MB+ memory
1 GHz or faster CPU
There's also a program for Mac although it's still in public beta testing. There are a few features missing, but most users report having a satisfying experience.
ACR Poker now also offers a browser based web interface, so you can play on any smartphone or tablet!
What Do I Get With the WELCOME100 Offer?
When you create your account using the WELCOME100 code, your first deposit of $25 will be matched dollar for dollar up to a maximum permitted bonus value of $2,000. You free money will release as you put in play at the poker tables. The amount you'll be rewarded with will be equal to 20% of the rake and fees you pay regardless of whether you hit the ring games, sit-and-goes or multi-table tournaments. You have 60 days to clear as much of your bonus as possible; after two months have elapsed, any remaining unearned pieces of your bonus will expire.
On top of these bonus funds, you'll also get $50 free to use on Jackpot Poker contests. This money isn't credited upfront either. Instead, you'll have to log into your account every day for the next 20 days to claim your daily card, which will contain between $2 and $6. If you fail to log in on a specific day, the money contained in that card will be lost forever.
Finally, your qualifying deposit will grant you access to weekly New Depositor Freerolls for the remainder of the calendar month. These free tourneys are held every Saturday at 12:05 p.m. ET and come with prize pools of $250. Time your deposit near the beginning of the month to get four of these entry tickets.
WELCOME100 Bonus Code: Quick Facts
Type:
Poker Bonus
Qualifications:
Deposit $25+
Percent Match:
100%
Min Bonus:
$25
Max Bonus:
$1,000
Issuance:
Released in Parts
Cashback Percentage:
20%
Expiration:
60 days
Withdrawable
Yes
Extras:
$50 Jackpot Poker
$250 Freeroll Entries
What Makes the Bonus So Good?
Unless you play for high stakes, you might think it's impossible for you to clear the entire $2,000 bonus sum. This is quite a reasonable thought to have, but there are actually plenty of reasons why the WELCOME100 promo code is perfect whether you play at the nosebleeds or at the tiniest of the micro stakes:
Even if you cannot earn out the maximum possible bonus amount, you'll receive credit for whatever sum you do fulfill the conditions for – down to the dollar. While it might feel bad to receive a $2,000 bonus and only be able to transform $200 of it into real money, this is much better than avoiding the bonus altogether and thus receiving $0.
Your bonus payments will hit your account not every week nor at the time of bonus expiration but rather whenever you want them to. As long as you've reached the criteria for scoring just $1 of your remaining bonus, you can go to the "Bonuses" section of the poker software and press the Redeem button. The addition to your cash balance will be made instantly.
There are enough games going at ACR that you can multitable if you want to increase your bonus-clearing rates. You can play up to 24 tables at a time, which should be enough for all but the most hardcore grinders. The ability to tile or cascade your games and sit out the next big blind at all tables with just a single click automates a lot of the hassle involved in playing multiple tables at once.
More Bonus Clearing Details
The information we've presented above is totally accurate and should be enough to get you started, but we understand that you might want more in-depth info on how earning bonuses at Americas Cardroom works. Well, it's all tied into the amount of rake you generate and tournament fees you pay. This is represented by the number of Award Points you earn.
In tournaments, you'll get 5.5 points for every dollar in fees you pay. The tournament fee is the amount after the plus sign in the tourney lobby. So if you enter a "$20 + $2" event, the fee is $2, and you'll get 11 Award Points.
In cash games, you'll get 5.5 points for every dollar in rake that you contribute. If you fold preflop without putting any money into the pot, you'll get 0 points. If, on the other hand, you and another player both put in enough chips to generate a pot that's raked $2, and nobody else contributes, then you'll each be credited with $1 in rake apiece and thus earn 5.5 Award Points.
For every 27.5 APs collected, you'll be eligible to convert another bonus dollar into real cash. To successfully attain the entire $1,000 bonus, you'll need to gather 55,000 Award Points.
Using the Free Tournament Dollars
Don't forget that your initial deposit of at least $25 entitles you to claim $50 in free tourney bucks to use on Jackpot Poker. Navigate in the lobby to Rewards –> Special Offers –> $50 Free Cash. Then click on the card corresponding to the current date. You will then get between $2 and $6 added to your account as tourney money.
YOU MUST DO THIS EVERY DAY FOR 20 DAYS after you make your deposit. If you fail to open up the proper card for any day, then the tournament credits contained within will be gone for good.
After you get your tournament dollars, head over to the "Jackpots" section of the poker lobby. The most inexpensive game listed is for $2, which is equal to the lowest award possible from a cash card. This means that you can play at least one Jackpot SNG every day that you collect a card. However, if you wish to save some of this free money up to afford a $10, $25 or $40 contest, you can do so. For more info on how this type of game works, look at our Jackpot Poker post.
Ring Game Action at Americas Cardroom
Now that you've learned all about the WELCOME100 welcome bonus, it's time to delve into the poker games you can play at ACR. The poker variant you're probably most interested in is NL Hold'em. There are games listed in the lobby from $0.01/$0.02 all the way up to $25/$50. The $5,000-buyin tables aren't just for show either – they do run sometimes, and on occassion, multiple tables at the highest levels are active.
If you fancy PL Omaha instead, then you'll be pleased to discover that it's spread at the same expansive range of blind levels as NLHE is. There's only a fraction of the player pool in PLO as opposed to Texas Holdd'em, but this is only to be expected. Like its two-card brother, four-card Omaha sometimes sees action at even the highest tables present.
Other games in approximate order of decreasing popularity are PLO/8, Limit Texas Hold'em, 7 Card Stud/8, 7 Card Stud Hi, NLO/8, Limit Omaha/8 and Limit Omaha Hi.
Tournament Action at Americas Cardroom
The tournaments are a big draw at ACR especially the weekly $215 Sunday Special that starts at 3:00 p.m. and comes with a $150,000 guarantee. This makes it the largest Sunday major event open to residents of the United States. If that's not enough for you, then check out the $530 High Roller, which takes place on Wednesdays and guarantees $20,000.
Don't be deceived though by these big-ticket events: The schedule contains many options with more modest buyins. Even some tourneys as small as $0.10 + $0.01 come with guarantees. You'll find something to interest you no matter what your bankroll happens to be.
Sit-n-gos are a type of tournament that's ideal if you don't have much time for a lengthy session. Select your buyin (from $1.50 + $0.11 to $1,200 + $15) and try to beat the smaller fields contained in these fast-paced matches.
Don't Ignore This Excellent Deal
100% up to $1,000 + $50 Free on Your First Deposit
The benefits of Americas Cardroom don't stop with the WELCOME100 referral code. Some of the attractions of this poker room are unique forms of gameplay that you won't encounter elsewhere while others are profitability-enhancing deals that aim to reward you for your play. There are so many of these elements available that they'll have you thinking about putting in another session even after you've just completed one.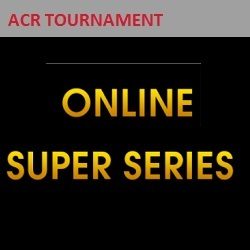 With millions of dollars up for grabs and dozens of events on the schedule, the Online Super Series contains something for every poker fan.
Americas Cardroom Cashier Options
Americas Cardroom recognizes that one method of payment may work well for some customers but be inappropriate for others. This is why it allows you to choose among several means of funding your account. Americans can make a deposit using any of the following:
Visa
MasterCard
Money Transfer
Bitcoin
Of these possibilities, we highly recommend Bitcoin both because it has the highest maximum transaction amount ($25,000) and becuase it's probably the most convenient for almost every player. International customers may have other methods open to them, such as Neteller and Skrill.
When it's time to make a withdrawal of your winnings, you might have to submit proof of identity and a recent utility bill. This is a standard procedure at most online poker rooms, and it provides an additional layer of security for you and the site. You can request that your funds be sent via:
Money transfer
Check
Debit card
Bitcoin
Americas Cardroom is known for speedy payouts through every supported processor, but the fastest cashouts are done through Bitcoin.
ACR Poker Features
There are dozens of places you can play poker over the internet, but ACR isn't just your run-of-the-mill poker site. There are a few distinct touches that elevate it a cut above the competition.
Register Today
Join ACR Poker to gain 100% up to $2,000 in bonus money and $50 free for Jackpot Poker!
Leave a Review!
ACR Poker Referral Code
Average rating:
2 reviews
Jun 24, 2020
Dude Where's My Money?
Ok, love the site, love the SNG's in which I play almost every day. People talk BS about a rigged RNG, yes I've had crazy suck outs where I lost, but guess what, I've also had crazy suck outs where I win. You play enough hands, you see everything. Casual noob poker players have a selective memory, they only remember the cold decks and bad beats, but trust me, the poker gods go both ways. Anyway, my real issue is ACR locked me out of my account for an "Audit". I can't log in and withdraw any funds, and I've got a serious bankroll there!! They said to wait 72 hours but it's been double that and i still cannot log in or access my funds. They need to allow me access in the next day or 2 or I will take this mainstream and destroy their online reputation. I'm giving them the benefit of the doubt, but will probably lose my patience in 48 hours. I'll post when I hear more!
Jul 31, 2017
ACR Bonus Code Good
Thank you, your welcome bonus code WELCOME100 worked and I'm loving ACR! I think it's the best place to play poker - don't trust the other US sites, but ACR seems fair and they have quick payouts!! Be sure to use Bitcoin tho! Highly recommend!